I can't believe how quickly this year has flown by but the holidays are upon us yet again. While it does pain me a bit to participate in the craziness and materialism even before Thanksgiving day, I wanted to give you all my list of the best gifts to give the entrepreneur in your life (or yourself) before Black Friday, Small Business Saturday, and Cyber Monday in case you're already heading out shopping.
If you're an entrepreneur yourself, subtly pass this along to those who might be buying for you 😉 If you have an entrepreneur in your life, take a peek. I've tried to include items at a variety of price points and only things that are actually helpful to those of us building startups or small businesses.
Let me know what you think of the list and feel free to add suggestions in the comments!
A new laptop or tablet
I've got my eye on the Microsoft Surface Pro 3 (256 GB, Intel Core i5)
 for my next buy. It's light, portable, and powerful and has good reviews. Remember, its price varies quite a bit based on the hard drive size, so get what's best for what you or the person you're buying for will be using it for.
Portable chargers
Entrepreneurs are often on the go and are always connected. Running out of juice can totally derail the day, so a couple of these portable power packs can be life savers. The PNY T2200 PowerPack Universal Portable Rechargeable Battery Charger
 has 4.5 stars on Amazon and is under $10.
BlueSmart Suitcase
This suitcase isn't actually in production yet but it seems like it would be a frequent traveler's best friend. It weighs itself so you don't get surprised by excess baggage fees and, if you get the carry-on sized one, it will charge your phone and has super easy access to your electronics for going through security. Yes, please.
Flexible power strips
Okay, this one is a little boring but it's totally useful. Setting up your office (at home or in an actual office), it's inevitable that you won't have enough plugs and will need a power strip. Since you need one anyway, why not go for a flexible one so you can make it fit where you need it and actually use all of the plugs. Plus, this one (Globe Electric 7790901 Surge Protected 4 Outlet Flexigon Power Strip with 2 USB Ports, White
) has spots for USB connection so that you can still juice your phone even if you've lost the outlet attachment for the end of your charging cord.
A functional and professional bag or briefcase
A nice, functional, and professional briefcase or bag is absolutely essential for any entrepreneur who needs to be out and about. You have to look the part and you need to stay organized and make sure you have everything you'll use throughout the day as you're networking, taking meetings, and jetting around town (or around the world). There are TONS of options, but here's a nice one with good reviews from a trusted maker: Samsonite Colombian Leather Flapover Case, Brown, One Size
Noise-canceling Headphones
Whether you're traveling, in a co-working space, or in a home office, when you're an entrepreneur there are bound to be lots of distractions that can derail your focus and slow your startup's or small business' progress. Sometimes you need to give your focus a little helping hand by canceling out any potentially distracting background noise with a good pair of headphones. Yes, I get that headphones that are this pricey are not for everyone. If you have a tendency to get easily distracted, however, these Bose QuietComfort 15 Acoustic Noise Cancelling Headphones
 will do wonders for your ability to get in the zone and get stuff done.
Business Card Case
Here's one that shouldn't break anyone's budget: a business card case. Every professional needs one but we all seem to forget to buy them for ourselves. There are a zillion options and you should consider personality and industry when choosing the right case, but you can't do much better for a stocking stuffer than this basic one for under $3: Business Name Card Holder Stainless Steel Case
.
Amazon prime membership
We all need stuff. Amazon has almost all of that stuff: everything from computers to clothes to toilet paper. When we order that stuff, we all want it like RIGHT NOW. A year of free 2-day shipping plus other goodies like free streaming movies, music, and shows. What's not to love? A no-brainer.
Great office chair
Whether we're at an office or working from home, entrepreneurs (just like everyone else) spend lots of time in front of our computers. We all know sitting that long isn't good for our health, no matter what we're sitting in, but we should at least be comfortable if we're going to do it. That's why an ergonomic office chair is a great gift for an entrepreneur. I like the looks of  this Back Leather Executive Office Desk Task Computer Chair w/Metal Base 3026
 or this fun one: Gaiam Balance Ball Chair (Black)
.
A massage or other spa treatment
Entrepreneurs need some time to relax so if you force them into it by gifting them a massage treatment, pedicure, or facial, they will be forever grateful!
Favorite bottle of alcohol
I repeat: entrepreneurs need some time to relax so if you help them chill out and enjoy some time with friends and family, they will love you. Buy them a bottle of their favorite scotch or wine and make sure they don't talk shop at all while drinking it.
Touchscreen gloves
It's super annoying when you can't check something or answer a text easily because it's cold outside and you're bundled up. Save the hassle with some touchscreen gloves like these Agloves S/M touch screen gloves, iPhone gloves, texting gloves.
Maid service
We all look for excuses not to wash the toilets and a customer crisis certainly works, so it's easy to let the house get a little messy when you're stressed out trying to build a business that can support you and your family. Help the entrepreneur in your life out by gifting him/her house-cleaning service. Or just an iRobot Roomba 770 Vacuum Cleaning Robot
, whichever.
Coffee or tea accessories
Entrepreneurs are no different than anyone else and sometimes mornings are just hard. Help us out with some cute coffee or tea accessories. I'm a tea drinker so I'm sort of obsessed with adorable tea infusers like the Manatea
, the Brew Whale
, the strawberry
, and this cute little robot
. For coffee lovers, the AeroPress Coffee and Espresso Maker
 seems to be on lots of lists.
Gym membership
We're more productive and more successful when we're more active and healthier. A gym membership is a great nudge to keep the entrepreneur in your life from becoming sedentary and obsessing over work all day, every day. Give with caution though – only you know if the person in your life might be offended by this gift.
Dry-erase paint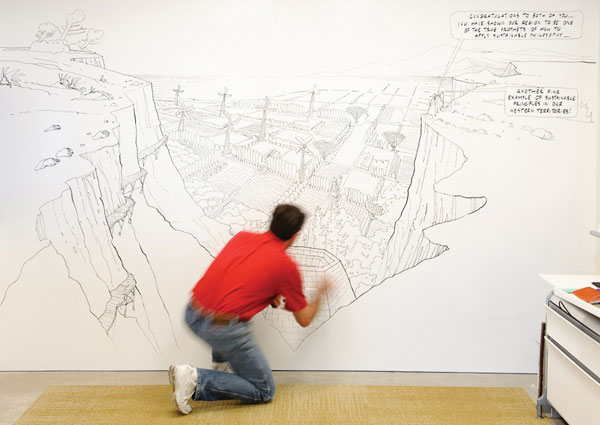 This cool paint easily turns basically any smooth, flat surface into a dry-erase board. Most of us entrepreneurs don't exactly have tons of space for chalkboards or dry-erase boards, nor do we want to clutter up what space we do have with these items or sticky notes or whatever else we use to plan and brainstorm. With IdeaPaint
, we can just write everything on the wall (or the desk, or wherever). They even have a clear version so you can put it over any color wall.
If you have any other ideas of great gifts for entrepreneurs, please let me know and I can add them here 🙂
*Please note that many of the links in this post are affiliate links.